HAWKS v CROWS
Sunday 25 April 12:30pm
UTAS Stadium
Round 6 is a home match for the Hawks at UTAS Stadium, which means that Hawthorn Reserved Seat and General Admission members will have access to ticketing for this match. Eligible members will receive an email with ticketing instructions prior to this game, which will include the date and time of the Member Redemption period through Ticketmaster online only. Please note members will not be able to scan their membership card to gain access to this match.
Please note, due to current UTAS COVID protocols,it is unlikely that reserved seat holders will be seated in their regular seat. Instead, you will be allocated a seat in your reserved seat area. Seats will be allocated on a first in, first served basis.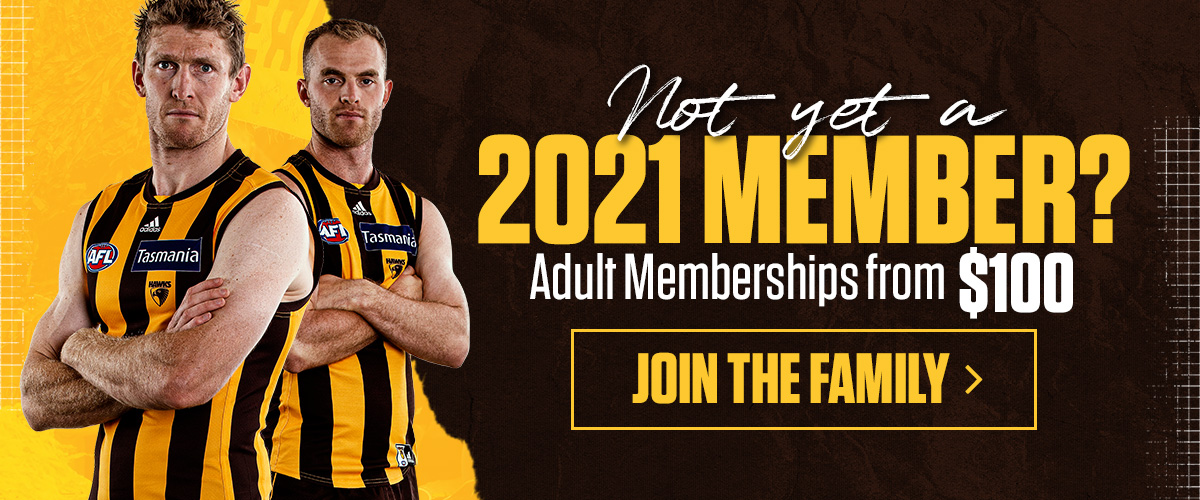 Hawthorn Member Redemption Period
Member Group 1: Monday 19 April, 10am - Wednesday 21 April, 12pm**
Member Group 2: Monday 19 April, 1pm - Wednesday 21 April, 12pm**
General Public On-sale: Wednesday 21 April, 1pm**
*Tickets are not guaranteed and will be allocated on a first in, first served basis. We will continue to be led by the State Government and health officials on the capacity at venues during the 2021 Toyota AFL Premiership Season
** Please note information is correct at the time of distribution. On-sale dates and times are subject to change.
Members must redeem their ticket through the Ticketmaster website. Unfortunately, tickets cannot be sold at a Ticketmaster outlet or on match day.
Please click here for a full list of our Ticketing FAQ's.
Membership Type
Grouping
Seating access
Price you pay

Tassie Gold

1

All Stands

$0

Captain's

1

Carlton Draught Stand

$0

Hudson Club

1

Western Stand

$0

Eade Wing

1

Eastern Terrace

$0

Pritchard Pocket

1

Southern Terrace

$0

Lethal Club,

Legends Club,

Kennedy Club,

Dunstall Club Gold,

Dunstall Club,

Gold Reserved Seat,

Silver Reserved Seat,

Home game General Admission,

Home and Away General Admission,

VIC Regional,

Flexi 10,

Interstate Gold,

Interstate Silver,

Interstate General Admission,

Auskick,

Tassie General Admission,

Emergency Services,

MCC Hawk

2

Eastern Terrace, Southern Terrace & Northern Terrace

$0
What you will need for the ticket redemption period
1. Visit Ticketmaster to redeem your tickets

2. Ensure you have your 12-digit barcode number plus all the barcode numbers of other members that you wish to redeem for. If you have not received an email with your barcode, please contact the Membership Department prior to the redemption date! Don't leave this to the last minute!
3. Make sure you have created a Ticketmaster account and have these login details handy! You will need to login so that Ticketmaster can send your tickets to you!

4. Be ready to redeem your tickets!

Additional Information about the ticket redemption period
Please note tickets will be allocated on a first in, first served basis.
Tickets are mobile only. Members will receive an SMS and Email from Ticketmaster with their ticket/s for the game. We recommend members to download the Ticketmaster app for easy access or you can save your ticket/s to your mobile wallet. Ensure your phone is charged on game day as you will need this to scan your ticket. Tickets cannot be printed off.
Only members with match-day access will be eligible to redeem a ticket. All other members must wait for the public on-sale.
Members who miss the allocated timeslot, will need to wait for the public on-sale to access a ticket.
Unfortunately, the club will be unable to redeem tickets on your behalf however the membership team will be happy to step you through the process.
Members can only redeem one ticket per barcode.
Tickets are limited to 6 tickets per transaction.
Any Juniors under the age of 6 will require a ticket. This can be added to your order when you a redeeming your tickets.
No guest tickets will be available during the member redemption timeslot. Members wishing to attend with non-members must wait for the public on-sale. However, by waiting for the public on-sale, members will risk missing out.
All members and fans will be required to follow the venue COVID safe measures and will be required to sit in their allocated seat listed on their ticket.
The stadium will be split up into different zones. Patrons will not be able to cross over into other zones on match-day. You must remain in your zone where your seat is allocated.
As the stadium will be operating at a reduced capacity, there will only be a small allocation of tickets. Please only redeem a ticket if you can attend the game. Tickets cannot be returned to the club.
Members and guests attending the match will be required to check in using the Check In TAS app on their phone. Please download this app prior to the match and scan the QR code at the venue attending the match.
AFL tickets are subject to the AFL Ticket and Entry Conditions.