A clash with our traditional rivals back on our home turf, the MCG. Members, don't miss our blockbuster home match against the Bombers!


ATTENDING THE MATCH

Reserved Seat Holders
In great news, reserved seats members will now be able scan their Digital Membership Card and sit in their designated reserved seat for home matches at the MCG. Please ensure you access your digital membership card on the day prior to the match to ensure you are ready for match day.
If you have trouble accessing your Digital Membership Card via the Hawthorn app, please log in to your MyHawks account using a browser on your mobile instead. Your Digital Membership Card should be visible under 'My Events'. Please contact the membership team if you are experiencing any issues with this.
Dunstall Club and General Admission Members
All Dunstall Club and General Admission members will receive priority access during an exclusive member redemption period to redeem a $0 ticket to this match via Ticketek. These members will be required to redeem their ticket using their 12-digit barcode number.

Ticket redemption date and times
Member redemption information will be confirmed closer to the match. Eligible members will receive an email with relevant ticketing information.

What you will need for the ticket redemption period for Dunstall Club and General Admission members:
1. Visit Ticketek - www.ticketek.com.au/afl
2. Ensure you have your 12-digit barcode number plus all the barcode numbers of other members that you wish to redeem for. If you have not received an email with your barcode, please contact the Membership Department prior to the redemption date! Don't leave this to the last minute!
3. Make sure you have created a Ticketek account and have these login details handy! You will need to login so that Ticketek can send your tickets to you!

4. Be ready to redeem your tickets!

Additional Information about the ticket redemption period
Please note tickets will be allocated on a first in, first served basis.
Tickets are mobile only. Members will receive an SMS and Email from Ticketek with their ticket/s for the game. We recommend members to download the Ticketek app for easy access or you can save your ticket/s to your mobile wallet. Ensure your phone is charged on game day as you will need this to scan your ticket. Tickets cannot be printed off.
Only members with match-day access will be eligible to redeem a ticket. All other members must wait for the public on-sale.
Members who miss the allocated timeslot, will need to wait for the public on-sale to access a ticket.
Unfortunately, the club will be unable to redeem tickets on your behalf however the membership team will be happy to step you through the process.
Members can only redeem one ticket per barcode. However, this week's match is Bring a Friend for Free, which means that members will be able to redeem one extra complimentary guest ticket per barcode.
Tickets are limited to 10 tickets per transaction.
Any juniors under the age of 6 will require a ticket. This can be added to your order when you a redeeming your tickets.
All members and fans will be required to follow the venue COVID safe measures and will be required to sit in their allocated seat listed on their ticket.
The stadium will be split up into different zones. Patrons will not be able to cross over into other zones on match-day. You must remain in your zone where your seat is allocated.
As the stadium will be operating at a reduced capacity, there will only be a small allocation of tickets. Please only redeem a ticket if you can attend the game. Tickets cannot be returned to the club.
AFL tickets are subject to the AFL Ticket and Entry Conditions.
Not a member?
Want more footy? It's not too late to get a reserved seat membership for Round 14 to scan in on match day, plus priority access to future matches this season.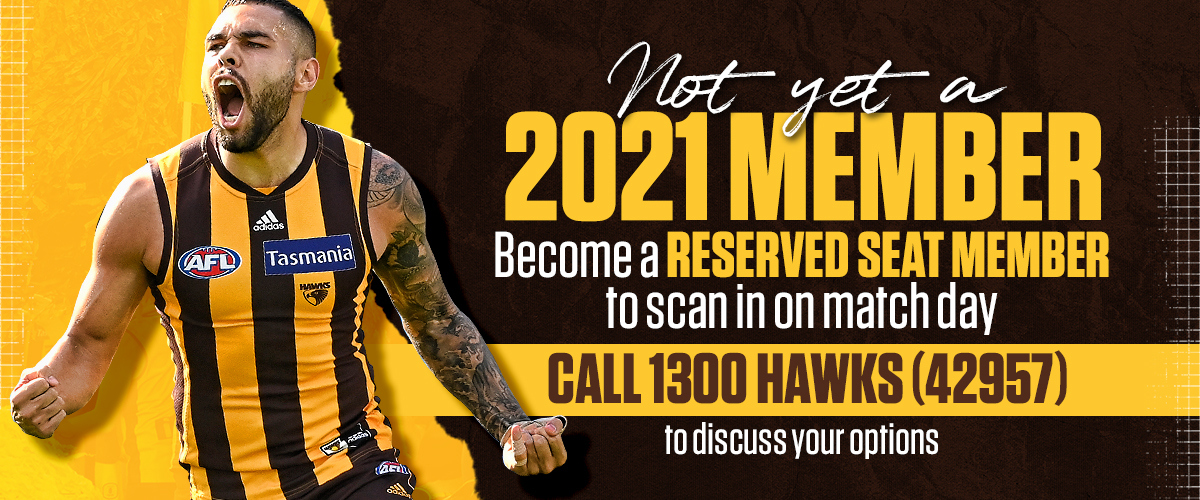 Wheelchair and Accessible Seating
Members who require wheelchair and accessible seating can contact Ticketek's Accessible Seating Hotline on 1300 665 915 or complete the Ticketek online form here

The Ticketek Accessible Bookings team are available Monday – Saturday, 9AM – 5PM and forms should be completed as early as possible and at least 24 hours prior to the event.
Public On-sale
Should any tickets be left over after the club redemption process has ended, these tickets will go on-sale at to the public.
Members who missed the original redemption timeslot will be able to redeem a complimentary ticket during the public on-sale*
*Tickets are not guaranteed and will be allocated on a first in, first served basis.
If you have any questions, our friendly membership team is available on 1 3000 HAWKS (42957) between 9am and 4:30pm, Monday to Friday.
Please click here for a full list of our Ticketing FAQ's.